BOOKS
On this page, you can order the different versions of Nate-Nate the Christmas Snake.
(Just CLICK on the book that you want to order.)

CLICK HERE TO THE ILLUSTRATED PAPERBACK
CLICK HERE TO BUY THE ILLUSTRATED KINDLE VERSION
The version shown above has the text-only version of
Nate-Nate the Christmas Snake's story, and wonderful new illustrations by Leslie Hodges.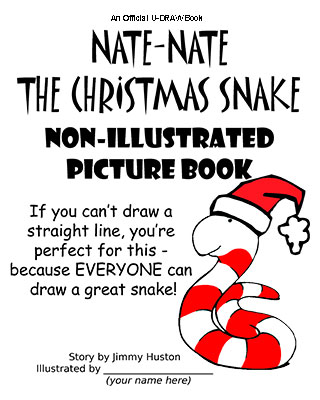 CLICK HERE TO BUY PRINT VERSION
CLICK HERE TO BUY KINDLE VERSION
This version has the written story, but leaves special places
for young artists to fill in their own illustrations of the story.
CLICK HERE TO BUY THE AUDIBLE AUDIOBOOK VERSION
We hope to have an illustrated version ready before Christmas,
as well as a very special audio book that is in the works.
And, there are more books coming with other adventures of Nate-Nate and his friends.
We hope to have them available soon, but to be honest, Nate-Nate is a very slow typist.